Products
Contact us
Tel: +86-755-3396 7196
Fax: +86-755 3396 7196
E-mail:
[email protected]
Add: YouSong Tech Bldg Block#B Rm#613, DongHuan 1st Rd #108, Longhua District, Shenzhen, 518109, China
100G QSFP28 Transceiver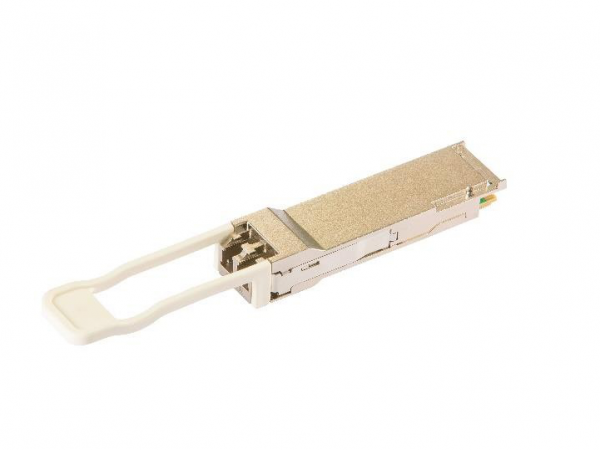 SQ-100G-ZR4
100GBASE_ZR4 QSFP28 4 LAN-WDM SMF 80KM
The 100G QSFP28 ZR4 is designed for 80km optical communication applications. This module contains 4- lane optical transmitter, 4-lane optical receiver and module management block including 2 wire serial inter- face. The optical signals are multiplexed to a single-mode fiber through an industry standard LC connector.
l QSFP28 MSA compliant

l Hot pluggable 38 pin electrical interface

l 4 LAN-WDM lanes MUX/DEMUX design

l 4x25G electrical interface

l Maximum power consumption 6.5W

l LC duplex connector

l Supports 103.125Gb/s aggregate bit rate

l Up to 80km transmission on single mode fiber

l Operating case temperature: 0℃ to 70℃

l Single 3.3V power supply

l RoHS 2.0 compliant

| | |
| --- | --- |
| Package (Form Factor) | QSFP28 |
| Data Rate | 100 Gb/s |
| Transmitter | 4CH EML |
| Receiver | 4CH PIN |
| Distance | 80km |
| Centre Wavelength | 1296nm~1310nm |
| Diagnostics | Digital Monitor |
| Operating Case Temperature | 0°C ~ +70°C |
| Voltage Supply (typical) | 3.3v |
| Connector | Duplex LC |
| TX Output Power | +2.0dBm ~ +6.5dBm |
| RX Sensitivity | -28dBm |

l 100GBASE-ZR4 100G Ethernet

l Telecom networking
Related products