40Gbps Cisco QSFP BiDi Transceiver Solution
Time:2017-07-26
Views:676
As a result of data center consolidation, server virtualization, and new applications that require higher data transport rates, the data center network is shifting to 10 Gbps at the access layer and 40 Gbps at the aggregation layer. However, to support 40-Gbps connectivity, there is the big challenge by the need for a major upgrade of the cabling infrastructure, which can be too expensive or disruptive to allow data centers to quickly adopt and migrate to the 40-Gbps technology. To solve this problem, the 40G QSFP+ BIDI SR is produced, which allows reuse of existing 10-Gbps fiber infrastructure for 40-Gbps connections.

The QSFP-40G-SR-BD is a Four-Channel,Pluggable, LC Duplex, Fiber-Optic QSFP+ Transceiver for 40 Gigabit Ethernet Applications. It integrates four electrical data lanes in each direction into transmission over a single LC duplex fiber optic cable. Each electrical lane operates at 10.3125 Gbps and conforms to the 40GE XLPPI interface.

The transceiver internally multiplexes an XLPPI 4x10G interface into two 20Gb/s electrical channels, transmitting and receiving each optically over one simplex LC fiber using bi-directional optics. Link distances up to 100 m using OM3 and 150m using OM4 optical fiber are supported. The electrical interface uses a 38 contact QSFP+ type edge connector. The optical interface uses a conventional LC duplex connector.
Transceiver Block Diagram
40G QSFP+ SR4 BIDI is different from the Existing 40Gbps SR4 Transceivers. The existing 40G SR4 transceivers are with 12 Fiber Strands Terminated by MPO-12 Connectors, 8 Fiber Strands (4 Fiber Pairs) Carry Traffic.

While the QSFP BIDI transceiver transmits full-duplex 40-Gbps traffic over one dual-fiber LC-connector OM3 or OM4 MMF cable.


Technology Concept of the QSFP BiDi Transceiver
The QSFP BIDI modules are de-signed to operate over multimode fiber systems using a nominal wavelength of 850nm on one end and 900nm on the other end. It has two 20-Gbps channels, each transmitted and received simultaneously over two wavelengths on a single MMF strand. The result is an aggregated duplex 40-Gbps link over a MMF duplex LC-terminated fiber cable. The connection can reach 100 meters on OM3 MMF or 150 meters on OM4 MMF, which is the same as 40-Gbps SR4. Following pictures show the technology concept of the QSFP BiDi transceiver.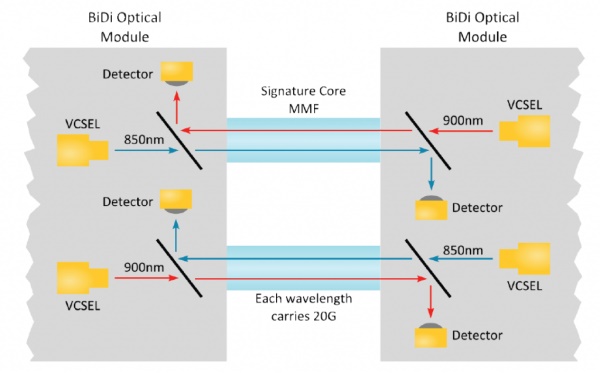 Cost saving of the 40G QSFP BIDI Transceiver
For most data center networks, the aggregation-layer fiber infrastructure is built for 10G connectivity. That either supports direct connections between devices over LC-to-LC MMF, or uses LC-to-LC fibers to attach devices to patch panels. The QSFP SR4 transceiver uses MPO-12 connectors. Therefore, with QSFP SR4 transceivers, none of the existing 10-Gbps MMF cables can be reused because the connector types are different. Whereas the QSFP BiDi transceiver uses LC connectors. Existing 10-Gbps connections commonly are MMF cables with LC connectors. Thus QSFP BiDi allows cable reuse, resulting in zero-cost cabling migration from direct 10-Gbps connections to direct 40-Gbps connections.
Conclusion

The QSFP BiDi solution removes 40-Gbps cabling cost barriers in data center networks. It provides 40-Gbps connectivity with immense savings and simplicity compared to other 40-Gbps QSFP transceivers, also allows organizations to migrate the existing 10-Gbps cabling infrastructure to 40 Gbps at no cost and to expand the infrastructure with low capital investment.
Sky Optics can offer you the 40Gbps QSFP BIDI transceiver solution in the data center. It is unnecessary to change the former 10G network system. This is the easy way to allow data centers to quickly adopt and migrate to the 40-Gbps technology.
For more details about the 40G QSDP BIDI transceivers, welcome to visit our website www.skyoptics.cn, or contact us with [email protected].