Products
Contact us
Tel: +86-755-3396 7196
Fax: +86-755 3396 7196
E-mail:
[email protected]
Add: YouSong Tech Bldg Block#B Rm#613, DongHuan 1st Rd #108, Longhua District, Shenzhen, 518109, China
PON Transceiver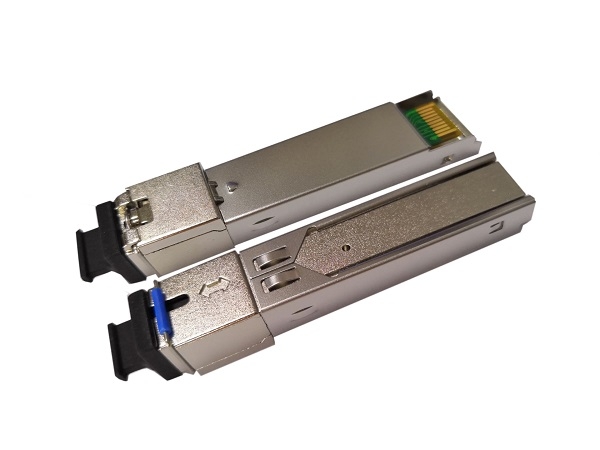 SP-GEU11-20Dx
GEPON ONU STICK SFP 1.25Gbps/1.25Gbps TX1310nm/ RX1490nm
Sky Optics's GEPON SFP ONU STICK is an MSA-compliant SFP that incorporates not just the optics for an ONU, but all of the electronics need as well. It is a "PON on a Stick" that an entire FTTH ONU in a slightly oversized SFP. It can be plugged into networking equipment. Allowing the data interfaces on a switch, router, etc. to be customized for different fiber environments and distance requirements.
l Single fiber bi-directional data links asymmetric TX 1250Mbps / RX 1250Mbps GEPON ONU application with GEPON MAC function.

l SC/UPC receptacle SFP with GEPON ONU MAC inside, "Plug-and-play" via auto-discovery and configuration

l 1310nm FP burst mode transmitter, 1490nm TIA continuous mode receiver

l Single 3.3V power supply

l Digital diagnostic monitor be retrieved by OLT remotely

l SFP MSA compliance

l Low EMI and excellent ESD protection

l Class I laser safety standard IEC-60825 compliant

l RoHS compliance

l EPON ONU compatible

l Complies with SFP Multi-Source Agreement (MSA) SFF-8074i

l Complies with IEEE802.3AH

Package (Form Factor)

SFP (GEPON ONU)

Data Rate

1.25Gbps/1.25Gbps

Transmitter

FP Laser

Receiver

TIA receiver

Distance

20km

Centre Wavelength

1310nm/1490nm

Diagnostics

Digital Monitor

Operating Case Temperature

0°C~70°C (commercial)

-40°C~85°C (industrial)

Voltage Supply (typical)

3.3v

Connector

Simplex SC/UPC

TX Output Power

0dBm~5dBm ( B+)

RX Sensitivity

-27dBm ( B+)

l Gigabit-capable Passive Optical Networks (GEPON)
Related products